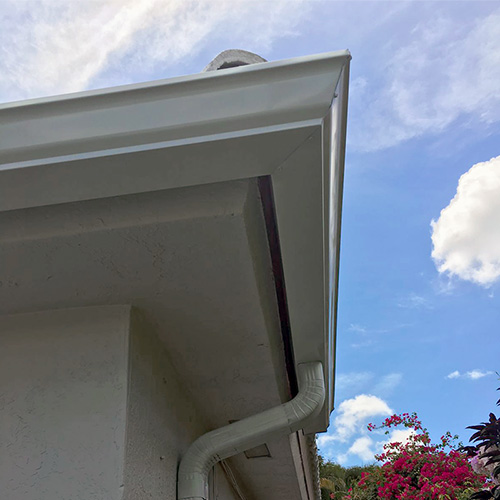 So far this summer has brought numerous tropical storms and hurricanes such as Harvey, Irma and Maria that have bombarded the United States and nearby countries with high winds and an extremely high volume of rain. While those are examples of extreme weather condition bringing devastating rain and flooding, much of which was nearly impossible to defend against, it is a good reminder that investing in your home is important when it comes to weather issues. Though not everyone lives in an area that can be affected by hurricanes or tropical storms, the reality is that most parts of the country see at least some amount of rain or snow at some point during the year. The thing to remember, however, is that any amount of rain or snow can potentially cause problems in your home if you are not prepared.
For example, imagine it is raining lightly for a few days. While this amount of rain may not cause flooding or obstructions on your street or in your yard, it may build up in your gutters, particularly if your gutters are not well maintained or if they were not made by gutter machines. These machines are responsible for making seamless gutters, which are different from the general sectional gutters most people are used to. Seamless gutters made by seamless gutter machines are one of the best ways to ensure your home functions properly during any kind of precipitation mostly because seamless gutters help increase protection to the home as well as lessen the opportunity for water to leak or clog in a gutter.
When a standard sectional gutter is used, the little seams or cracks that exist because of the parts fitting together, can easily cause small leaks that can either leak down the side of a house and cause wood rot or damage to the interior walls. The seams can also make it easier for water or debris to clog the gutter, which may cause a gutter to burst and result in higher volumes of water pouring down right next to your house, increasing the potential for foundational damage or flooding in your basement.
Many homebuilders have switched to prioritizing gutter art as a way to ensure that the homes they build are not only attractive, but maintain structural integrity even in inclement weather. Through the use of seamless gutters, rain water and snow melt can be successful diverted to a place where the homeowner actually wants the water to go. This can include a more substantial storm drain or even into an extended gutter that feeds into a lawn or garden. The most important part of a gutter system is that it is able to control any kind of precipitation to a homeowner's preference. Homeowners deal with numerous issues regarding the safety and value of their homes and are generally very interested in ways that they can have more control over the safety and value of their homes. One of the easiest ways to provide this is through the use of seamless gutters to help in flood mitigation.